Live GPS Tracking
Geolocating
Our trackers contain an ultra-sensitive GPS chip, to accurately and continuously determine each athlete's position, and a GPRS modem, to send that position to the DotVision Motion servers, in real time. 1. GPS satellite
2. Athlete with a DotVision Motion tracker
3. GSM/GPRS antenna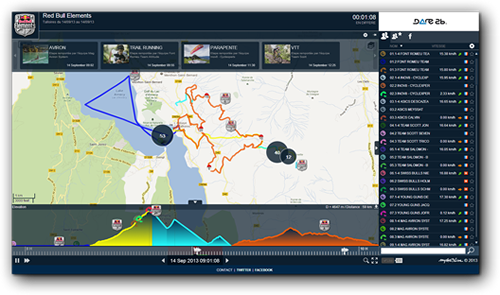 Platform
Real time
User-friendly, customisable and flexible. Follow hundreds of parpticipants.
Anywhere, anytime. Compatible with PC, Mac, tablets and smartphones
Many background map options: aerial, 3D, official maps, etc.
Detailed statistics (Dist/D+/D-/Speed/Ranking…)
User-controlled live feeds : you can always rewind and review any race scenes during the live event, and then switch back to the live race feed.
Sharing on social networks
Live Ranking
Set up virtual ranking on your event and get live ranking feed.
Mobile Applications
Enhance your experience with our mobile apps, available for Android and iOS.
Trackers



DotVision platform works with GSM, satelite and Sigfox GPS trackers.



Firmware
Manufacturer
DotVision
Manufacturer
Size
2.7 x 1.6 x 0.9 in
2.7 x 1.6 x 0.8 in
3.5 x 2.6 x 0.9 in
Network
Sigfox
GPRS
(multi-operator coverage)
GlobalStar
Battery Life
1 month
Between 20h and 100h
(depending on the configuration)
Between 2 and 5 days
(depending on the configuration)
Refresh rate
10min
Between 1sec and 1h
(depending on the configuration)
Between 2min30 and 10min
(depending on the configuration)
No-connection behavior
Possible data loss
Records are saved 10min.
No data loss
Records are saved locally and can be processed when connection is back.
Possible data loss
No local record.
Use Cases
Package tracking.
GPS tracking under GSM coverage (Trail, VTT, Coastal sailing, Kayak, Raid, Windsurf...)
GPS tracking without GSM coverage (desert, open sea).
Are you an organiser?
Secure your event and broadcast the GPS tracking in real-time, over the Internet and to smartphones. Increase your visibility and your event's management. Take advantage of the replay feature to breathe new life into your event, after the finish line.
Are you an athlete?
During your competition, share your adventure with your friends and family, in real time for your security and also for your followers !
Afterwards, You can replay your race, analyse you race data and share with your family and friends.
Are you a sport club ?
Manage your own devices stock. Follow your members and their progressions, secure their daily training and organize funny races.
Are you an operator?
Join our growing network of service providers. Contact us for more information.